Minster have developed a range of Thermal Products for the food distribution industry from a liner to protect Bananas from perishing on a chilled vehicle to a full liner for frozen goods.
We are not a sales team selling one cover does all? All our Thermal Covers are manufactured to meet the customer requirements. Please see below a few examples from our extensive range:
Multi-Drop
The Multi-Drop liner was designed to combat the need to keep frozen goods below the -15 degrees after multiple drops. After our customer found using a standard liner or shroud the temperature rose sharply once it was opened.
Cage Liner
This is our standard Cage Liner this was designed to help keep the temperature more stable than a conventional shroud. This is available in various Thermal Properties, from protection to keeping frozen goods at the correct temperature.
Cage Shroud
This is a standard Shroud in the distribution industry. Simple and effective at keeping the desired temperature. This is available in various Thermal Properties.
Half Liner
Since it's launch, it has generated a lot of interest. This was developed a few years ago with the rise in convenience stores opening, where there was a need to be able to deliver only part loads of chilled and frozen goods on an ambient vehicle. This is available in various Thermal Properties.
Box Liner
This is very popular within the home delivery sector. Primarily this was designed for the transport of chilled goods, we have now taken our knowledge in the freezer covers and taken this into a whole new area in the field of home deliveries.
Pallet Cover
Thermal Pallet Cover available in standard or adjustable for UK or EURO sizes. This is available in various Thermal Properties. Image to follow shortly.
This is only a small selection of Thermal Covers and Bags we manufacture.
If your requirements are not shown above, please contact us to discuss further.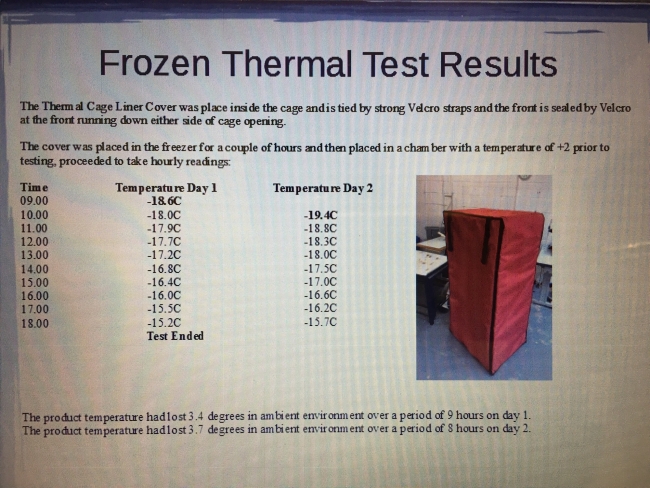 Tel: 0114 247 2623
Email: minster_prod@btconnect.com
Email: mp-sales@btconnect.com
Google Tag Manager (noscript) -->
<noscript><iframe src=https://www.googletagmanager.com/ns.html?id=UA-101867893-1
height="0" width="0" style="display:none;visibility:hidden"></iframe></noscript>
<!-- End Google Tag Manager (noscript) -->