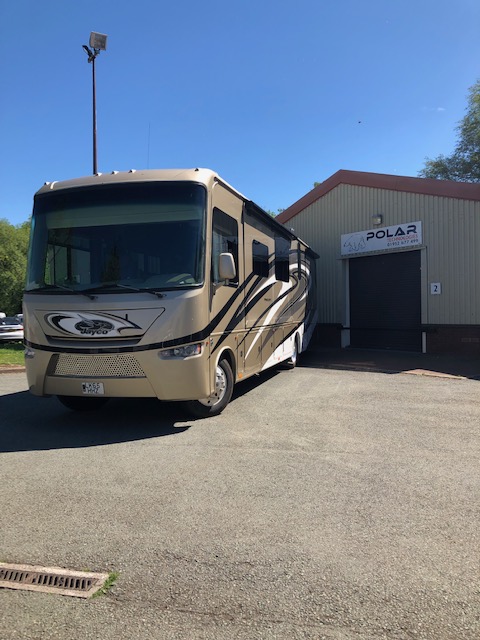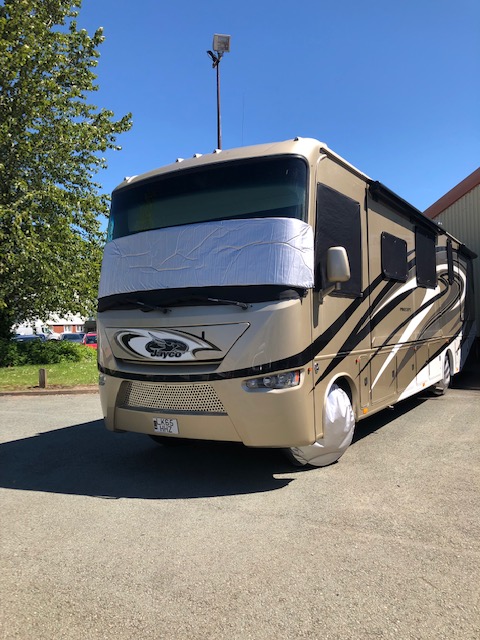 We enjoyed the visit from the above Motorhomer in this very impressive Motorhome, fully kitted out with a POLAR thermal screen cover, window covers, wheel covers and wiper blade covers. 21/05/2019
*****
POLAR Technologies specialize in motorhomes thermally insulated screen covers and accessories. All manufactured in the UK at our Telford and Sheffield factory.
The POLAR range of screen covers provide exceptional value for money. The screen covers offers excellent thermal insulation properties and includes the popular "fold down" screen section.
In the winter POLAR screen cover will insulate against the cold and in the summer they are an effective way of keeping your van cooler by reflecting the suns rays. The main benefit of the POLAR screens, they are very effective at eliminating condensation in the cab area.
Van/Coach Built Vehicles
POLAR screens are tailored specifically for your vehicle. The screen covers are designed to wrap tightly around your cab and trap in insulated air underneath. Each screen cover contains of two window connectors which locate securely around the upper part of the cab door and holds the screen cover tightly to the windscreen.
A Class Vehicles
POLAR screens utilize the door and slidng window for securing the screen to the vehicle. We do not use any external fittings such as rails or press studs. If you have an A Class and you would like a bespoke screen cover, POLAR do the very popular same day service where you can visit the factory and have a screen custom made for your vehicle.
We are aware of the rising fuel cost, so if the distance is too great to visit us at the factory, we can provide a template kit with all the instructions needed to take a template, which takes about 20 minutes, then return back to us and we will manufacture a screen cover for your vehicle.
POLAR Privacy Mesh (Optional Extra)
The POLAR range of thermal screen covers all have the popular fold down front section to allow in the sunlight. With the privacy mesh you can let the sunlight in and still keep the privacy within your motorhome. You can fold down the front or remove the front section, leaving the privacy mesh in position.
POLAR Pop Up Wraps
POLAR screens have developed a range of thermal wraps for camper vans with pop up roofs. All wraps are made from the same material as our popular thermal screen covers, which offers exceptional thermal insulation. POLAR wraps are manufactured in 2 pieces for ease of fitting. The rear section is fitted with velcro straps, which enables the wrap to be tensioned tightly around your POP UP canvas.
Please call for more information or to book an appointment for a bespoke screen or request a template kit.
Prices
| | |
| --- | --- |
| Fiat Ducato/P.Boxer 1994-2006 | £125.00 each |
| Fiat Ducato/P.Boxer 2006- onwards | £125.00 each |
| Fiat Ducato/P.Boxer 2006 onwards with extended vent cover | £145.00 each |
All of the above are with or without Remis Blinds
| | |
| --- | --- |
| VW T4 | £125.00 each |
| VW T5 | £125.00 each |
| VW T6 | £125.00 each |
| Ford Transit 2006 | £125.00 each |
All A-Class Via Factory visit or Template Kit

£285.00 each

Pop Up Roof Wrap

£150.00 each

Privacy Mesh - For Coach Built

Privacy Mesh - For A Class

£20.00 each

£25.00 each

Full Privacy Mesh - Fiat Ducato 2007 Onwards -

Other models available

£68.00 each
| | |
| --- | --- |
| Wheel Covers in Silver | £20.00 per pair |
| Wiper Blade Covers in Silver or Black | £9.50 per pair |



All our Thermal Screen Covers are supplied with a Storage Bag.
Free Post & Packing Mainland UK (Excluding Scottish Islands & Ireland)
See our other products on Ebay "Polar Thermal Screen Covers"
For Polar Sales call:-
Tel: Telford - 01952 677 499 or Sheffield - 0114 247 2623
Email: mp-sales@btconnect.com
Email: minster_prod@btconnect.com
Google Tag Manager (noscript) -->
<noscript><iframe src=https://www.googletagmanager.com/ns.html?id=UA-101867893-1
height="0" width="0" style="display:none;visibility:hidden"></iframe></noscript>
<!-- End Google Tag Manager (noscript) -->